Top Ten Attractions in Slovenia for Children
15.4.2015 | Slovenia Estates
Top Ten Attractions in Slovenia for Children
Families visiting Slovenia for a holiday are spoilt for choice when it comes to activities. There's a strong emphasis on outdoor pursuits but there's also plenty to do should the weather take you indoors. Slovenia may be small but it's certainly not crowded and, even at the busiest attractions, long queues are rare.
Here's our top ten for activities and attractions for children in Slovenia; it's been put together using suggestions from ex-pat families who know the country well. Our list combines a few of the best known attractions with some activities that don't appear in all of the guidebooks.
1. Go Underground
The Postojna Caves complex is Slovenia's most visited tourist attraction and for good reason. A miniature railway runs through this network of limestone caves filled with shimmering stalactites and stalagmites (full marks if you remember which grow up and which grow down) and culminates in a short walk to the final cavern, a vast underground concert hall.
Next door in the Vivarium, you can learn about the olm or 'human fish' a small creature which is unique to the limestone caves of this part of Europe.
2. Pull Some Strings
Puppetry is a long standing tradition in Slovenia and there are excellent theatres in Ljubljana and Maribor (where the theatre is housed in a converted Minorite monastery on the north bank of the Drava). There are regular performances ranging from traditional fairy tales to contemporary classics, and opportunities to take part in workshops.
3. Make a Splash
Slovenia is home to some of the best water-parks in Europe, several of them based around thermal springs. Parents can relax and enjoy treatments in the wellness centres while the kids play supervised by qualified guards in the outdoor and indoor pools. They include Terme Čatež, Thermana Laško, Moravske Toplice and Ljubljana's Atlantis Water City.
4. Frozen Fun
Skiing is a national pastime in Slovenia and recent successes in women's slalom, snow boarding and ski jumping competitions only have reinforced the passion for winter sports. If your teens are into boarding Rogla is the place to head to as the Winter Fun Park has all the bumps and jumps for daredevil snowboarders. The excellent resorts at Kope and Maribor Pohorje in the east of the country have well regarded ski schools while in the west of Slovenia the Kranjska Gora ski school is unrivalled. Cerkno has a growing reputation and with its ski kindergarten with organised activities, it's certainly a draw for families.
5. Bring on the Dancing Horses
Close to the border with Italy, the small village of Lipica is the cradle of the Lipizzaners, the famous white horses traditionally used by the Spanish Riding School in Vienna. There are three shows a week in summer and visitors can also watch the horses being trained. There's also a state of the art interactive museum about the Lipizzaner horses and opportunities for trail riding.
6. Take to Two Wheels
With its network of quiet country roads and towns and cities well catered for with dedicated cycle paths, Slovenia is an excellent destination for cyclists. Many hotels offer free cycle hire and local tourist information offices also run hire schemes. While the mountains routes of western Slovenia are more challenging, the gentle rolling hills of eastern Slovenia are perhaps more suitable for families. At Mežica in northern Slovenia you can cycle through a disused mine, while at Maribor Pohorje Adrenalin Park adventurous riders can cycle down the mountain biking course used for international championships.
7. Adrenalin Adventures
Whether you prefer your adventure on the water, on dry land or up above the trees, you will find plenty of opportunities in Slovenia. From white water rafting on the fast moving emerald waters of the Soča River to canyoning around Lake Bohinj, daredevil kids will relish the challenges on offer. The more faint-hearted can try the summer toboggans at Maribor Pohorje and Bled Straža, or those with a head for heights can try one of several high ropes centres around the country.
8. Land of Ice (Atlantis Waterpark, Ljubljana)
Land of Ice is a seasonal sculpture park where all the exhibits are made of ice. Naturally, it's only open in winter. In the 2016/2017 winter season, it will be open until 5 March.
The sculptures take us back centuries and recount the history of the Slavs as well as Slovenian traditions and customs. The sculptors who worked on the 2016/2017 come from Slovenia, Spain, Russia and Finland.
Land of Ice is open daily at the Atlantis Waterpark which is situated in Ljubljana at the BTC shopping centre.
9. Hit the Beach
Although Slovenia has only a short coastline on the Adriatic, it boasts a variety of resorts, each with something different to offer. Portorož is the main resort and has the best beach, though it can be very crowded in the height of summer. Most of the larger hotels in Portorož, however, have pools and many have organised activities for children. Attractions on the coast include the aquarium at Piran, the bell tower in Koper's Old Town and the salt museum and nature reserve at Sečovlje.
10. MiniCity BTC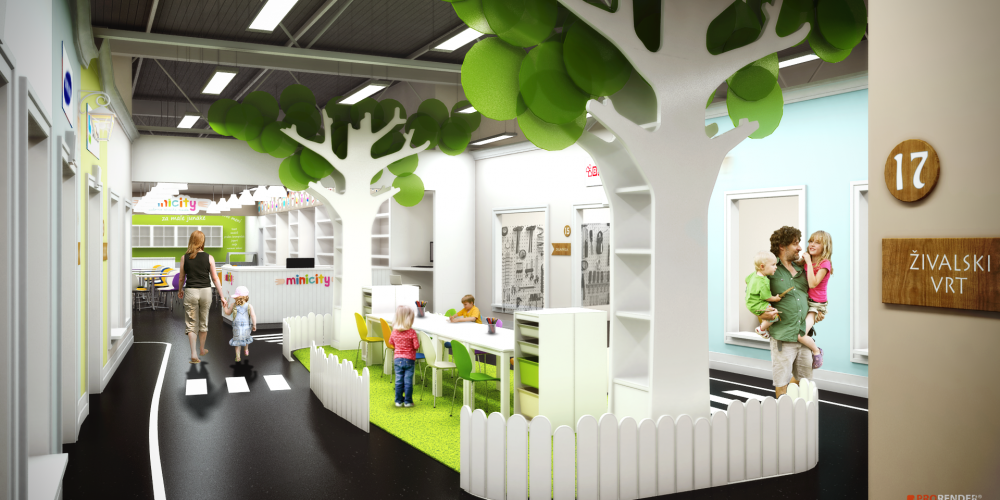 MiniCity is just that – a miniature city for kids, situated in the BTC, Ljubljana's main shopping mall. The idea is that children between the ages of 3 and 12 can learn about different jobs and how the world works through a variety of games and interactive activities. There's a mini bakery, police station and even a radio and television studio in miniature. And for mum and dad? Well they can relax in the cafe, or look at some of the displays intended to help adults understand the development of kids and how to encourage their learning.